InvestorPlace – Stock Market News, Stock Advice & Trading Tips
Springtime's here. Feeling that urge to pack your bag and go have an adventure? If so, you're not alone. They're saying 2022 might be the Year of Travel.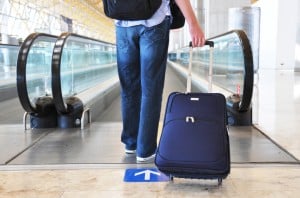 Source: ©iStock.com/astra490
Early signs – from hotel and flight bookings to consumer surveys – all point to a comeback for the travel industry. Despite inflation…despite airlines having to find creative routes around Russian airspace… people are just ready to take a great trip with their loved ones.
American Express (NYSE:AXP) released the results of their 2022 Global Travel Trends survey on Monday, and here's what they found:
86% of respondents expect to spend more or the same on travel in 2022 versus before the pandemic
76% plan to travel more with family this year
74% are willing to book a trip for 2022 even if they might have to cancel or modify it later
65% would rather take their dream vacation than purchase a new car
AmEx conducted this survey from Feb. 3-11 (in the U.S., Canada, Mexico, the U.K., Japan, India, and Australia). And even after Russia's invasion of Ukraine later in February, this sentiment seems to be holding strong!
AirDNA, which tracks vacation rentals on Airbnb (NASDAQ:ABNB) and Vrbo, told Reuters last Friday that bookings are "49% higher than this time last year, and 26% higher than pre-pandemic 2019." In Europe, flight bookings were up triple digits year-over-year!
And yet, as people flock to travel platforms this time of year, it also shines a harsh light on their business practices.
Because Airbnb built the homesharing industry in the Web 2.0 days, it dictates whatever terms it wants to its users. It's pretty much their way or the highway.
Meanwhile, in Web3, these old gatekeepers are being left behind. New competitors are attracting talent and users by empowering them, with friendlier policies and fees – and oftentimes, a voice in these decisions.
No wonder the most intriguing travel startups are using blockchain technology to promise a cheaper, better way to travel or rent out your vacation property. Below are three to watch….and maybe give them a try yourself!
Dtravel and Travala
"Airbnb is exploiting its users, but decentralized alternatives are possible," writes Luke Kim, co-founder of the Berkeley Blockchain Xcelerator, in an op/ed for Cointelegraph in July.
Luke Kim is also part of a decentralized autonomous organization (DAO) called Dtravel (TRVL-USD), a community of vacation-rental hosts and guests.
"It did not take long for us to realize that this vision of the sharing economy was a lie," Kim writes. "The guests pay too much and the hosts are paid too little… Platforms like Airbnb are now at odds with their users because they need to take what they can from them in order to maximize profits and ensure their very survival."
That's a polite way to put it compared to this viral tweet (and the replies). As last year's travel season was heating up, one Airbnb user showed how the fees tacked on to her transaction were – surprise! – more than the listed cost of the room itself:
we gotta stop airbnb pic.twitter.com/RUVq3Gwv9i
— alexa (@mariokartdwi) May 17, 2021
The service fees alone might run you an extra 20% on Airbnb. Meanwhile, "Dtravel fees are set at 10% but can go as low as 5% from a combination of rewards and givebacks," according to their website.
Here's how it works. On Dtravel, all of this booking revenue goes into the treasury of the Dtravel DAO, which is governed by the community of TRVL crypto holders. Hosts, guests, and investors all have a voice in business and policy decisions. And they can earn more TRVL through their contributions – or as a loyalty incentive for booking on Dtravel.
Dtravel is a companion project to Travala (AVA-USD). If Dtravel is the Airbnb of the blockchain, Travala is like the Expedia (NASDAQ:EXPE) of the blockchain, where you can get "Best Prices Guaranteed" on 3 million hotels around the world.
In fact, Expedia is the main supplier of these travel deals, with Travala acting as its cryptocurrency partner. Book through them, and you can pay with your choice of 80 different cryptos, including Dtravel's TRVL token.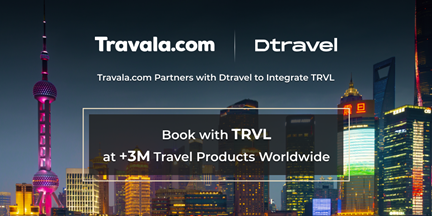 Source: Travala
Both Dtravel and Travala are backed by Binance (BNB-USD). Their advisory board includes ex-Airbnb executives, plus all-stars like Sicco Behrens, co-founder of Booking.com (NASDAQ:BKNG); Andre Cronje, founder of yearn.finance (YFI-USD); and Sebastien Borget, co-founder of The Sandbox (SAND-USD) metaverse.
By December, just six months after launching, Dtravel could boast 250,000 rentals in 20,000 destinations. Its big brother Travala attracted 318,000 monthly active users by the fourth quarter, and revenues went from just $2.5 million to $17.4 million. So, Travala is seeing 596% growth, year-over-year… well before the summer travel season even begins!
Jet Token
On the transportation side, Jet Token provides a smartphone app to book flights on private jets – an industry that really took off, so to speak, during the pandemic.
Last January in the Robb Report, which covers the global luxury market, we learned that private aviation had seen a 300% increase in first-time customers, year-over-year, mainly for personal travel.
Even when you look back to 2019 instead of 2020, "the demand for private jet travel has risen 20% above pre-pandemic levels," says Jet Token on its crowdfunding page.
See, in its bid to bring private aviation to the masses, Jet Token is also raising its startup cash from the masses. It's one of the private deals we've highlighted before here at InvestorPlace.
What's unique about Jet Token is that it uses a blockchain platform, built on Ethereum (ETH-USD), to book customers flights more efficiently – with the best cost savings. This could open up private aviation to a whole new market of customers who could never have afforded it before.
One way Jet Token can save you money is by combining smaller private flights with longer commercial flights – all in one transaction! – like in this example:
Source: Jet Token
And if you choose to pay with crypto, the booking happens on a smart contract – not through a traditional bank. No hidden fees, and no waiting for confirmation through evenings, weekends and holidays.
Jet Token is working on another cost-saving feature, too:
As Jet Token expands its blockchain platform, you'll be able to book a direct flight on a private jet – but then re-sell the unused, return leg it has to make. This, too, happens on Ethereum, directly between Jet Token customers; no middleman standing in the way or taking his cut.
Jet Token, like Dtravel and Travala, is taking an industry that hasn't changed much in decades – and giving it a major facelift. It's possible that traveling could actually be fun again. And that alone makes these startups worth watching in this Year of Travel.
On the date of publication, Ashley Cassell did not have (either directly or indirectly) any positions in the securities mentioned in this article. The opinions expressed in this article are those of the writer, subject to the InvestorPlace.com Publishing Guidelines. To have more news from The New Digital World sent to your inbox, click here to sign up for the newsletter.
The post 3 Blockchain Startups to Watch in the Travel Industry as Vacations Make a Comeback appeared first on InvestorPlace.
The views and opinions expressed herein are the views and opinions of the author and do not necessarily reflect those of Nasdaq, Inc.

https://www.nasdaq.com/articles/3-blockchain-startups-to-watch-in-the-travel-industry-as-vacations-make-a-comeback