From the poolside comfort of the Westin Resort Nusa Dua where I stayed for a few nights, things were so sparkling and ready to go – and the staff so upbeat and positive – it was hard to comprehend the financial wreckage Bali has endured, given tourism represents 80 per cent of its economy.
In a sign of the significance of the reboot of the Australian market, Bali's governor, Dr I Wayan Koster, hosted a lavish dinner with Australian and other foreign media to make the point that Bali must move on from COVID-19 to ensure it can prosper again.
"Bali has very positive COVID-19 management, and we are committed to keep these good results so that we are able to ensure the opening of Bali to all nations with less restrictions," he said.
Back in March, travellers faced a number of restrictions on arrival in Bali that have since been eased.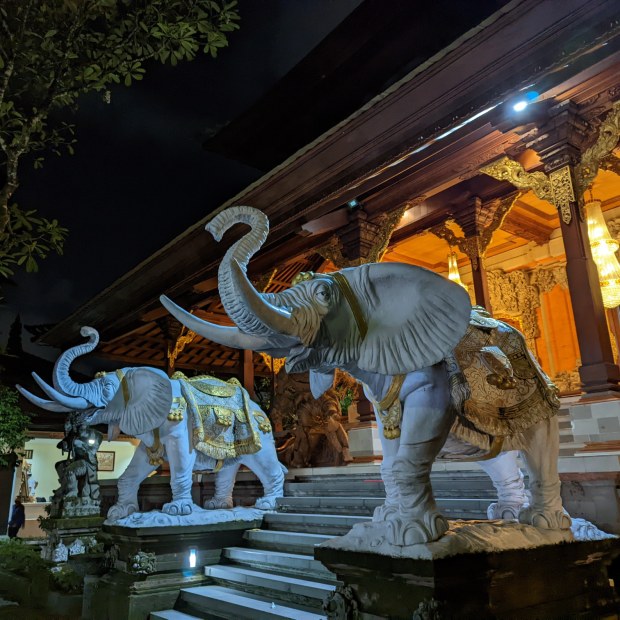 To travel to Indonesia from Australia today, you need to have had a minimum of two vaccinations, according to the Australian government's Smartraveller website. On arrival, you must also present evidence of a negative COVID-19 (PCR) test, taken within 48 hours of departure.
Children under six are not required to be vaccinated to enter Indonesia, however partially vaccinated six- to 17-year-olds may be required to complete vaccinations by local authorities.
For those looking to head to Bali during our winter, rest assured that time hasn't stood still since March 2020.
A number of swish new hotels have now opened their doors, including Raffles Bali at Jimbaran Bay, and the Four Seasons Jimbaran Bay has reopened its Healing Village after a multi-million dollar makeover. Up in Ubud, 18-room Titik Dua has now opened, housed in a modernist influenced design by renowned Indonesian architect Andra Matin.
Scheduled to open in June in North Ubud is Buahan, the Banyan Tree Group's first property in Bali under its new Escape brand. With just 16 wooden villas and a semi-open floor plan, the emphasis is on "exclusive camaraderie", including open kitchen and living room areas designed to foster a sense of community, and openness to the outdoors. The menu will be 70 per cent plant-based, with most ingredients grown nearby.
Bali won't see a full rebound until close to 6.3 million international tourists return – the number of visitors who travelled to Bali pre-pandemic in 2019, most of them from Australia and China. The decline in tourist numbers has been devastating; the local tourism board says 1.1 million visitors travelled to the island in 2020 while a mere 51 came in 2021.
Walking through Seminyak – Bali's main commercial hub – on my final afternoon, I meet one of the thousands of small business owners who are hoping that things will return to normal as quickly as possible.
Dewa Astika set up his tattoo studio Azumi in 2017. During the pandemic, he laid off 10 staff and remortgaged his house. "I pretty much lost everything," he says. "It has been two years of rent gone to waste."
As foreign airlines such as Qantas and its low-cost subsidiary Jetstar restart services to Bali, Dewa is optimistic that the much-missed buzz will return to Seminyak.
"Hopefully, the tourists can bring the life back … you take it for granted, you know because before it's so busy, you can't move. But since that's gone, I think I'd much rather take that," he says.
The reporter travelled to Bali as a guest of Jetstar.
https://www.afr.com/life-and-luxury/travel/australians-lead-bali-s-rebound-20220321-p5a6ei