We were several days into a driving trip in Scotland, on a deserted road not far from Pitlochry, when we found ourselves casually driving on the wrong side of the road.
Until that morning, we had been handling driving on the left side of the road just fine, but on this day, after a full Scottish breakfast and distracted by the glorious scenery, automatic pilot kicked in.
A gentle toot from an oncoming car quickly brought us to our senses, and we moved over. The driver, clearly familiar with the lapses of American drivers, passed us with a smile and flashed us a peace sign. 
I would like to say this was the only snag in what was otherwise a perfect exploration of one of the U.K.'s loveliest destinations, but during our adventures on the road we managed to also deal with a flat tire — which we changed ourselves by the side of the road — a cracked windshield of mysterious origin and sometimes disappointing lodgings.
Clearly, the support of a travel advisor would have smoothed out some of the rough edges of our tour — although perhaps not the wrong-side-of-the-road lapse — while still enabling us to enjoy the independence of the experience.
While our Scotland self-drive adventure was pre-pandemic, common sense suggests that for some travelers, especially those who may still be skittish about being in crowds until Covid is well and truly behind us, independent travel with support will have strong appeal as we lurch into Europe's travel reset. 
To that end, VisitScotland and Avanti Destinations, which sells custom FIT travel exclusively through travel advisors, have partnered to educate advisors on independent travel to off-the-beaten-path, less familiar destinations in Scotland.
The campaign comprises four new customizable FIT vacation packages that include 25 new tours and activities and seven new hotels, all outlined in a 48-page "Scotland Is Calling" e-brochure.
Help with FIT planning
Available on the tour operator's recently revamped agent portal and designed to be shared with clients, the e-brochure offers advisors FIT planning information, including annual events, what to expect each season and where to enjoy food and drink, play golf, sample whisky and see the most memorable scenery.
Itineraries can be customized on the agent portal to change the number of days, swap destinations, add sightseeing tours and activity options and — key for any self-drive vacation — to select the type of hotel accommodations clients prefer, from country homes to posh castles.
What if you don't feel like driving every day? Transfer options can break things up with rail, private transfers and even chauffeur guides.
"We have designed this joint campaign and the new itineraries to broaden travelers' experiences beyond the capital, Edinburgh, and to take in amazing sights the average tourist misses," said Paul Barry, CEO of Avanti Destinations. 
"Scotland has a depth to its past, with many American connections; castles, including some you can stay in; a proud and fiery history; world-famous whisky; the birthplace of golf; [and] abundant natural areas for hiking and other outdoor activities. Its jaw-dropping scenery has inspired many popular films, television shows and literature. It also has an efficient rail system and spectacular country roads," Barry said.
The promotion addresses seasonality — there are some advantages to branching out beyond summer, for example, especially for those who want to avoid crowds — and sustainability, a goal to which Scotland is dedicated.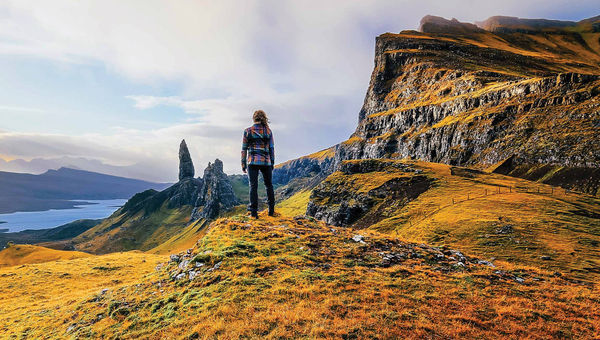 The Old Man of Storr, a rugged rock formation on the Isle of Skye, overlooks the Sound of Raasay. Photo Credit: Courtesy of Avanti Destinations
The tours
The new FIT packages highlight four different regions of Scotland, three of which include the use of a rental car.
The five-night, self-drive Isle of Skye Experience, for example, would have been ideal for us, because this area was among our favorite destinations in the country, but it also posed the most difficulty in terms of finding accommodations.
In fact, a few years ago the destination made a splash by asking tourists who intended to stay overnight not to come unless they had hotel reservations already booked because of the popularity of the island and the scarcity of rooms.
During our stay, we found lodgings in Portree, the capital and main village, but in retrospect, we were lucky and wouldn't leave that up to chance in the future.
The Isle of Skye Experience also includes Glasgow, Glencoe Village and Kilchrenan and features a private tour of the Trotternish peninsula on Skye with a driver-guide — one who clearly knows which side of the road to drive on — a Scotch whisky distillery tour and tasting; entrance to Dunvegan Castle with a boat trip to see a seal colony; and car rental, choice of hotel accommodations and daily breakfast.
Other tours highlight the north coast, featuring Inverness, Badachro, Ullapool, Kylesku and Thurso; the east coast, focusing on St. Andrews, Dundee, Aberdeen and Inverness; and Loch Ness combined with Edinburgh.
The company offers a total of 121 hotels and 98 activities, tours and experiences in Scotland, and all are customizable.
For clients unsure of where to go in Scotland, the destination recently unveiled the Unesco Trail, which connects 13 Unesco destinations in the destination.
They include the biospheres in Wester Ross and Galloway, the global geopark in Shetland and the World Heritage Sites of St. Kilda, Neolithic Orkney, New Lanark, the Forth Bridge and the Antonine Wall.
It also includes Scotland's most famous cities: Edinburgh, Glasgow and Dundee.
The Unesco Trail encourages visitors to slow down, stay longer, visit year-round and to make sustainable travel choices, according to VisitScotland.
Barry said that soaring fuel prices will not have an impact on Avanti's rates, though he does acknowledge that customers will no doubt feel the pinch in other places. His advice: book early. 
"Our self-drive vacations do not include the price of gas; that is a cost borne by the travelers. Higher gas prices will increase many of the cost components in our overall bookings," he said. "I do expect to see constant rising prices in airfares and services that include transportation as well as other items that have a high energy cost component in their delivery.
"Buying now locks in those prices for the future and is a good way to minimize those price increases." 
https://www.travelweekly.com/Europe-Travel/Scotland-adventure-with-Avanti-Destinations