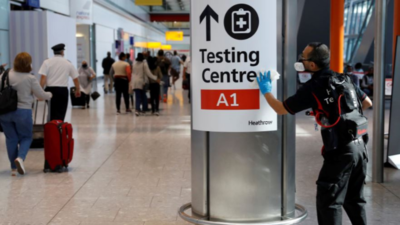 NEW DELHI: Scotland could be the new Switzerland for revving-to-go Indian globetrotters as the UK will remove remaining Covid-19 international travel restrictions for all passengers from Friday (March 18). On the other hand, the European Union, which is also relaxing pandemic norms, will consider international arrivals fully vaccinated only if they have got the last shot within certain days of proposed visit there.
With India yet to allow boosters for all meeting that criteria may prove to be tough, putting Brexit UK at advantage over its ex fellow EU member states till their immunity validity period requirements remain.
British High Commissioner to India Alex Ellis Tweeted Tuesday: "Great news for everyone travelling from India to the UK. All Covid-19 travel restrictions (will be) removed in the UK." India will resume regular international flights from March 27 and the increased connectivity will lead to fares dropping from the exorbitant bubble levels. And the UK has been one of the biggest destinations for Indian travellers, the quintessential vilayat.
The British government website says that from 4 am (GMT) on March 18 "all Covid-19 travel restrictions will be lifted, including the passenger locator form (PLF) for arrivals into UK, as well as all tests for passengers who do not qualify as vaccinated. This change, therefore, removes the need for unvaccinated passengers to take a pre-departure test and a day-2 post arrival test."
"…remaining managed hotel quarantine capacity will be fully stood down from the end of March, making the UK one of the first major economies to end all Covid-19 international travel rules," it adds. To be sure, the UK says it has has put in place "contingency plans to manage any future variants of concern (VoCs)."
British Airways Tweeted Tuesday: "From 16 March, our face mask policy is changing. Where we're clear the destination you're travelling to doesn't require a face mask on board, it will become optional. Please continue to respect fellow passengers' mask preferences in these instances."
A leading Indian travel agent says that UK must lower its visa fees, which are among the highest globally. Fees for visitors visa valid upto 6 months, 2 years, 5 years and 10 years is Rs 9,837; Rs 37,381; Rs 67,824; and Rs 85,116, respectively.
"While the visitor visa fees for the US is about Rs 11-12,000, Uncle Sam grants a 10-year visa to successful applicants. Giving a long term visa at a reasonable fee is a big factor for repeat visits which translate into the same person going often and spending money there. Given the size of the Indian diaspora and other factors like trade and studies, repeat travel is a common phenomenon. Charging higher visa fees is being penny wise, pound foolish," the travel agent said.
Being among the highest spending travellers, Indians are being wooed by almost all countries that are opening up post pandemic. Australia is waiving visa fees for those applicants who had a valid visa for going there during the pandemic but couldn't do so as the continent was cut off from the world in that period.
FacebookTwitterLinkedinEMail

https://timesofindia.indiatimes.com/india/uk-to-drop-all-pandemic-time-travel-requirement-from-friday-to-be-at-advantage-over-eu/articleshow/90247984.cms